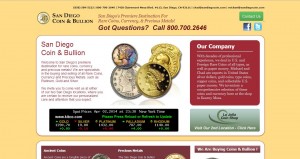 San Diego Coin and Bullion Corp address, phone, website, hours of operation, and more.
Welcome to San Diego's premiere destination for rare coins, currency and precious metals! We are specialists in the buying and selling of all Rare Coins, Currency and Precious Metals, such as Platinum, Gold and Silver.
We invite you to come visit us at either of our two San Diego locations, where you are certain to receive our personalized care and attention that you expect.
With decades of professional experience, we deal in U.S. and Foreign Rare Coins of all types, as well as paper money. Michael and Chad are experts in United States silver dollars, gold coins, type coins, copper coins, and collectable U.S. paper money. We inventory a comprehensive selection of these coins and currency here at the shop in Kearny Mesa.
Address: 7420 Clairemont Mesa Blvd, San Diego, CA 92111
Phone: (858) 569-5222
Website: http://www.sandiegocoin.com
Email: sdcoin@covad.net
Hours:
Mon – Fri 9:00 am – 5:00 pm
Sat 10:00 am – 4:00 pm