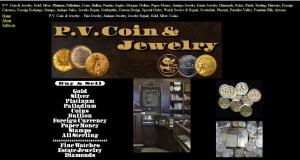 PV Coin & Jewelry address, phone, website, hours of operation, and more. PV Coin & Jewelry is a full service shop that buys and sells to both the investor and collector. We accommodate all levels of investing and collecting, and offer complimentary evaluations on all of your collectables.
Here at PV Coin and Jewelry we buy and sell Coins, Bullion, Paper Money, Foreign Currency, Stamps, All Sterling, Estate Jewelry, Fine Watches and Antique Collectables. Jewelry repair, watch repair, as well as battery replacement. You will be sure to say as many of our customers already have, "I'm sure glad I found you!" Come and visit us and see our historic safes, photos and Arizona memorabilia, in our safe, friendly, and professional 1880's mercantile style shop.
We strive to educate our clients whenever possible, and hope you will come see us whether you are selling or buying. Our diverse inventory is perfect for beginning and seasoned collectors. PV Coin & Jewelry's estate jewelry boutique is buying jewelry and pays the highest market price. We want to be the valley's destination for estate jewelry!
Address: 8764 E Shea Blvd Suite 115, Scottsdale, AZ 85260
Phone: (480) 607-7888
Fax: (480) 922-2548
Website: http://www.pvcoin.com
Email: sales@pvcoin.com
Hours:
Mon – Fri 9:30 am – 5:00 pm
Sat 9:30 am – 4:00 pm
Sun Closed