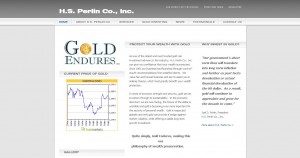 H S Perlin Co address, phone, website, and more.
As one of the oldest and most trusted gold coin investment advisors in the industry, H.S. Perlin Co., Inc. can give you confidence that your wealth is protected.  Since 1961 our business has flourished through word-of-mouth recommendations from satisfied clients.  We value fair and honest business and aim to assist you in making choices, which most greatly benefit your wealth protection.
In times of economic strength and security, gold serves investors through its sustainability.  In the economic downturn we are now facing, the future of the dollar is unstable and gold is becoming even more important for the security of personal wealth.  Gold is respected globally and only gold can provide a hedge against market volatility, while offering a stable long-term growth investment.
Address: 1110 Silverado St, La Jolla, CA 92037
Phone:  (858) 459-7803
Fax: (858) 459-7804
Website: http://www.goldendures.com