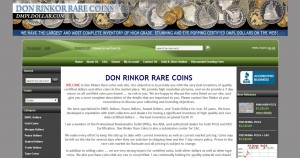 Don Rinkor Rare Coins address, phone, website, hours of operation, and more.
Our objective is to provide you with the very best inventory of quality certified dollars and other coins in the market place. We provide high resolution pictures, and we do provide a 7 day return on all certified coins purchased … no risk to you. We are happy to discuss the coins listed on our site, and give you a more complete description of the details that are important to you. Please contact Don Rinkor at your convenience to discuss your collecting and investing objectives.
We have specialized in DMPL Dollars, Peace Dollars, Seated Dollars, and Trade Dollars for over 20 years. We have developed a reputation with both collectors and dealers for having a significant inventory of high quality and rare date certified dollars … the best inventory on planet Earth !!!
I am a member of the Professional Numismatics Guild (PNG), the ANA, and authorized dealer for both PCGS and NGC Certification. Don Rinkor Rare Coins is also a submission center for CAC.
We make every effort to keep the site up to date with current inventory as well as current market pricing. Coins may be left on the site for several days after they are sold due to shipping time and the 7 day return policy. Prices in the rare coin market do fluctuate and all pricing is subject to change.
In addition to selling coins … we are very strong buyers for certified coins, both silver dollars as well as other type coins. We also purchase coins that are raw or uncertified. I am continually looking for quality material and should you have an interest in selling your coins, please allow me to make you a very generous offer. I also love to buy back coins that I have sold, as well !!!
Address:  2600 Mendocino Ave, Santa Rosa, CA 95403
Phone: (888) 870-2646
Website: http://www.certifieddollar.com
Email: donrinkor@dmpldollar.com
Hours:
Mon – Sat 9:00 am – 4:30 pm
Sun Closed