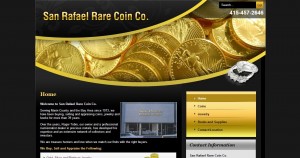 San Rafael Rare Coin address, phone, website, hours of operation, and more.
Serving Marin County and the Bay Area since 1973, we have been buying, selling and appraising coins, jewelry and books for more than 39 years.
Over the years, Roger Tobin, our owner and a professional numismatist dealer in precious metals, has developed his expertise and an extensive network of collectors and investors.
We are treasure hunters and love when we match our finds with the right buyers.
Address: 1219 4th St, San Rafael, CA 94901
Phone: (415) 457-2646
Website: http://www.sanrafaelrarecoin.com
Hours: Mon – Fri 11:00 am – 4:00 pm