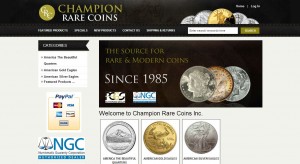 Champion Rare Coins address, phone, website, and more.
Champion Rare Coins has been owned and operated by Carlos M Torres for over 25 years now. We have been one of the main sources for rare and modern coins since 1985. We pride ourselves on our open, friendly, and honest service.
We provide you with the best because we know how much your coin collections mean to you. We are coin collectors as well, and would expect the same passion and dedication from our dealers. Our number one priority is providing exceptional customer service and quality to loyal customers like you.
Nothing makes us happier than seeing our customers' collections grow and expand through the years. We want to help you enjoy your collection, and make you proud of what you own. That is why we only offer our customers first-rate materials.
Address: PO Box 177, Miami, FL 33269
Phone: (305) 588-1947
Website: http://www.championrarecoins.com
Email: info@championrarecoins.com