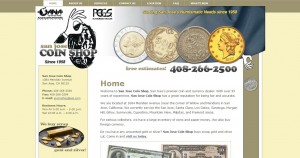 San Jose Coin Shop address, phone, website, hours of operation, and more.
San Jose Coin Shop was founded in 1958 and has been family owned and operated for over 50 years. Don Lynch, the owner since 1977, is a lifetime member of the American Numismatic Association. The American Numismatic Association is a nonprofit educational organization dedicated to educating and encouraging people to study and collect money and related items. He is also an authorized PCGS (Professional Coin Grading Service Dealer).
Don Lynch is an expert in coin grading and evaluating. We also do appraising and liquidation for several banks, financial institutions, and government agencies. We are actively filling want list requests and placing rare and valuable coins and currencies throughout the industry.
Address: 1084 Meridian Ave, San Jose, CA 95125
Phone: (408) 724-9460
Fax: (408) 266-2599
Website: http://www.sjcoinshop.com
Email: sjcoinshop@aol.com
Hours:
Mon – Fri 9:30 am – 5:30 pm
Sat 10:00 am – 4:00 pm