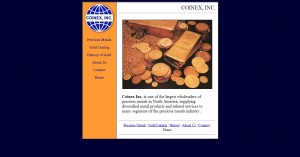 Coinex Inc address, phone, website, and more. Coinex Inc is one of the largest wholesalers of precious metals in North America, supplying diversified metal products and related services to many segments of the precious metals industry.
Coinex Inc is a leader in trading and physical delivery of metals. Coinex Inc is also a leading distributor of coins, bars, grains, and ingots for a large number of manufacturers and investors. We provide professional service to wholesalers, manufacturers and merchants of precious metals.
Anchored by our financial stability and commitment to the precious metals marketplace, we offer creative, flexible programs. Customers throughout the United States rely on our extended trading hours, experienced personnel, and our broad range of products and services. Coinex Inc's relationships around the United States expedite domestic transactions and delivery of metals. With instant access to domestic markets, we constantly monitor the metals marketplace to provide competitive pricing and up-to-the-minute market information.
Address: 650 S Hill St # 328A, Los Angeles, CA 90014
Phone: (213) 629-4460
Website: http://www.coinexinc.com