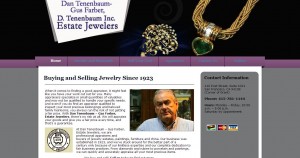 Gus Farber- Dan Tenenbaum Jewelers address, phone, website, hours of operation, and more.
When it comes to finding a good appraiser, it might feel like you have your work cut out for you. Many appraisers specialize in small quantities of valuables and may not be qualified to handle your specific needs. And even if you do find an appraiser qualified to inspect your most precious belongings and beloved family heirlooms, you always run the risk of not getting a fair price. With Dan Tenenbaum – Gus Farber, Estate Jewelers, there's no risk at all. We will appraise your goods and give you a fair price every time, and that's a guarantee.
At Dan Tenenbaum – Gus Farber, Estate Jewelers, we are professional appraisers and buyers of jewelry estates, paintings, furniture and china. Our business was established in 1923, and we've stuck around for the better part of a century only because of our limitless expertise and our complete dedication to fair business practices. From diamonds and rubies to porcelain and paintings, we can quickly and accurately appraise all your most precious items.
Address: 10 Post St Ste 1021, San Francisco, CA 94108
Phone: (415) 653-1578
Website: http://www.2estatejewelrysf.com
Hours: Mon – Fri 10:00 am – 5:00 pm