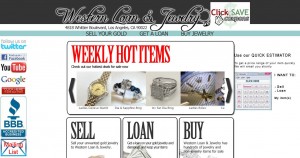 Western Loan and Jewelry address, phone, website, hours of operation, and more.
Since 1964, Western Loan & Jewelry has been the right place to sell gold, pawn personal assets or buy discounted jewelry in Los Angeles. We are the Pawn Stars of East LA.  We pride ourselves on giving our customers friendly, professional and confidential service. Pawn Shops have always been the true people's bank.   Get cash 4 your gold at Western.  Western Loan and Jewelry will make you a 'no obligation' offer for a loan or buy good for 3 days, and all of our transactions are paid in cash and confidential.  WE LOAN ON PERSONAL ASSETS NOT INDIVIDUALS.  Bad credit will not affect your loan amount.
Selling or pawning your unwanted gold jewelry, old diamonds, silver and platinum takes only minutes to complete. Western Loan & Jewelry pays the most for all forms of gold and platinum jewelry. If you do not want to sell your valuables- your Jewelry and Gold at Los Angeles' favorite pawn shop. When you pawn your gold you use your personal items as collateral for a cash loan. All loans are for 4 months and our interest rates are regulated by the State.
Don't forget we also sell jewelry.  From engagement rings and bracelets to necklaces and watches, our prices are considerably lower than retail jewelry stores.  We sale by gold weight not standard jewelry mark ups.  This means Western Loan & Jewelry has high discounts on jewelry in Los Angeles.
Address: 4818 Whittier Blvd, Los Angeles, CA 90022
Phone: (323) 518-2707
Website: http://westernloan.com
Email: westernloan@aol.com
Hours:
Mon – Thu 10:00 am – 5:00 pm
Fri 10:00 am – 6:00 pm
Sat 10:00 am – 4:00 pm
Sun Closed