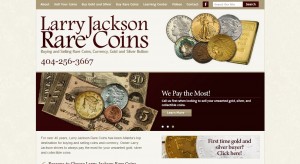 Larry Jackson Rare Coins address, phone, website, hours of operation, and more.
Larry Jackson Numismatics has been a family-owned and operated business in the Atlanta area for over 40 years. We handle millions of dollars in rare coins, currency and precious metals annually. We are authorized dealers of the major coin grading services including both PCGS and NGC. Larry is a life member of the American Numismatic Association, as well as fourteen other state and regional numismatic organizations. He has served as past president of the Georgia Numismatic Association as well as the Blue Ridge Numismatic Association, and has maintained full time retail offices in Atlanta since 1977.
We offer a vast array of services for our clients including building specialized collections, individual and estate appraisals, and the buying and selling of precious metals. Larry has been featured in numerous publications such as the Bank Note Reporter and Numismatic News for both his contributions as well as his knowledge of the rare coin and currency business. His dedicated staff and industry-wide contacts from 40+ years of business enable him to accurately value and market virtually any rare coin or currency item imaginable. We are also longstanding members of the Industry Council for Tangible Assets (ICTA).
Address: 4920 Roswell Rd, Atlanta, GA 30342
Phone: (404) 256-3667
Website: http://www.ljncoins.com
Hours:
Mon – Fri 10:00 am – 4:00 pm
Sat 10:00 am – 3:00 pm
Sun Closed