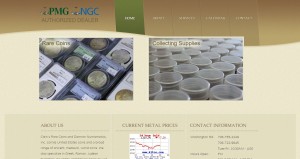 Clein's Rare Coins address, phone, website, hours of operation, and more. Established in 1941, Clein's Rare Coins and Damron Numismatics, Inc., is a life member of the American Numismatic Association (#4691 and #4730), the Blue Ridge Numismatic Association (R4651), the Tennessee State Numismatic Society (#316), the Georgia Numismatic Association, Metropolitan Coin Club of Atlanta, the Industry Council for Tangible Assets, and is an international visiting dealer of the British Numismatic Trade Association Coinex. We are a full service coin dealer which strives to provide customers with quality coins at reasonable prices. We carry US coins and a broad range of world coins such as English, Irish and Scottish. We also specialize in Greek, Roman, Judean Byzantine, Crusader, and Biblical Coins.
Did you know that Clein's is also the largest, oldest and only full-time coin shop in the CSRA? We are always the first in professionalism, customer satisfaction, customer referrals, experience and dedication. We have the largest selection of coins from 460 BC to present, and we are often featured experts in local publications. We are proud to have face-to-face customers from all over the globe and not just via the Internet.
Have you ever seen or held an Ancient? Wayne Damron is shown holding a silver Shekel. This coin was used during biblical times, and features the icon of the Phoenician god Melgart or Bael. Ancient coins are not always carried by other coin dealers, but you will find a variety of ancients in our continually rotating inventory. As life members of the American Numismatic Association, we enjoy helping people discover and explore the world of money, and choose to give to our community through educational classes and lectures.
Address: 1255 Telfair St, Augusta, GA 30901
Phone: (706) 722-9945
Website: http://www.cleinsrarecoins.com
Hours:
Mon Closed
Tue – Fri 10:30 am – 4:00 pm
Sat 9:30 am – 12:30 pm
Sun Closed