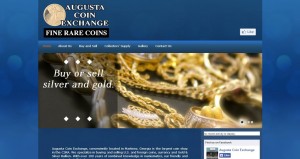 Augusta Coin Exchange address, phone, website, and more. Augusta Coin Exchange offers a wide selection of coins including foreign and ancient coins perfect for a variety of styles. Owned by businessman Larry Lucree, this local coin shop strives to provide the highest quality service, competitive prices as well as the most in numismatic knowledge in the CSRA. With over 100 years of combined knowledge amongst Larry and his staff, the operators at Augusta Coin Exchange are able to give you the advice you need on the investments you want to make.
Augusta Coin Exchange welcomes all levels of collectors whether you would just like advice on how to get your first collection started or you have been collecting for years. They offer top dollar for high quality coin sets as well as immediate payment for your collection. Not only does Augusta Coin Exchange specialize in buying and selling coins, currency and bullion, but they also offer appraisals for your coin collection no matter the size!
While buying and selling coins is the specialty at Augusta Coin Exchange, the staff also participates in coin shows locally and around the country. There are two local coin shows held twice a year at Patriots Park in Grovetown, Georgia. They also travel far and wide to participate in some larger shows in St. Louis, Missouri and the Fun Show in Orlando, Florida. Dealers from all over the country visit the area to showcase their finest coin collections and finding rare treasures that they have been searching for.
Address: 4015 Washington Rd, Augusta, GA 30907
Phone: (706) 210-5486
Website: http://www.augustacoinexchange.com
Email: coolhandcoins@comcast.net