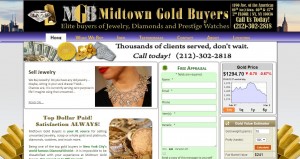 Looking for Midtown Gold Buyers? Post reviews and comments here. Midtown Gold Buyers is your #1 source for selling unwanted jewelry, scrap or whole gold and platinum, diamonds, watches, and much more.
Being one of the top gold buyers in New York City's world famous Diamond District – it is impossible to be dissatisfied with your experience at Midtown Gold Buyers. We payout up to 98% for gold.
We provide you with knowledge other buyers don't disclose – since we remain honest and respectful of our clients. The reason why we are proud to serve regular repeat customers: trust.
1190 Avenue Of The Americas, New York, NY 10036
(212) 302-2818
Website: http://midtowngoldbuyers.com/
Email: MidtownGoldBuyers@gmail.com
Hours: Mon – Fri 9:00 am – 8:00 pm
Extra Phone: (212) 302-2018