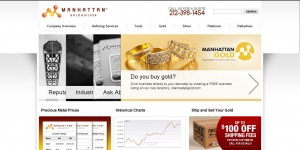 The following page is dedicated to Manhattan Gold and Silver, please post comments and reviews of this establishment. Since 1985, Manhattan Gold & Silver has gained high industry regard for our B2B (business to business) precious metal refining services. For the past 25-plus years, we have upheld our commitment to companies of all sizes around the world by providing them with seamless precious metals refining services and payouts. No job is too big, or too small. Our flexibility has allowed us to serve a broad range of businesses—from jewelry shops and antique dealers to industrial manufacturers and dentists.
Customer satisfaction is of the utmost importance because our longevity depends on it. With each individual trade we strive to keep our customers' loyalty by dealing honestly, fairly, and quickly. Our payouts for precious metals are set daily to the London Gold Fixing and all of our precious metals refining services have been handled onsite by the same Manhattan Gold & Silver team for more than 25 years, assuring expertise and consistency in all transactions. Our mission is to make sure that our precious metal refining services exceed customer expectations for speed and professionalism.
As a part of our industry memberships and community-engagement within the Diamond District, Manhattan Gold & Silver is a major sponsor of the New York State Jewelers Association, a 100-year-old, 700-member-strong association representing the top jewelry retailers, designers, suppliers, and manufacturers in New York.
Our headquarters are at 45 West 47th Street (Exchange) where we have a superior team of knowledgeable individuals waiting to answer all of your questions and assist with your precious metal scrap. We take great pride in our ability to make your experience with us a smooth and pleasurable one. Contact us now for information on the latest gold, silver, platinum, and palladium prices and how to take advantage of our precious metals refining services.
Address: 45 W 47th St # 8, New York, NY 10036
Phone: (212) 398-1454
Fax: (212) 398-7856
AKA: Manhattan Gold & Diamond Buyers
Website http://www.mgsrefining.com