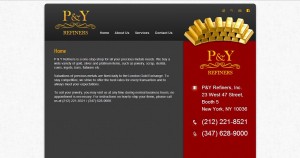 P and Y Refiners address, phone, hours of operation, and more. P & Y Refiners is a one-stop-shop for all your precious metals needs. We buy a wide variety of gold, silver and platinum items, such as jewelry, scrap, dental, coins, ingots, bars, flatware etc.
Valuations of precious metals are fixed daily to the London Gold Exchange. To stay competitive, we strive to offer the best rates for every transaction and to always meet your expectations.
P & Y has a long history and reputation for excellence in the Precious Metal Refining Community. We are a fully licensed, family owned and operated business established in 1992.
We buy and refine gold scrap, silver scrap and platinum, using the most technologically advanced refining and assay equipment.
Our staff is prepared to provide you impeccable and unforgettable service. From your first business with us, you will become part of our family.
Address: 23 W 47th St, Booth 5, New York, NY 10036
Phone: (212) 221-8521
Website: http://www.pyrefiners.com/
Hours: Mon – Fri 9:00 am – 5:00 pm