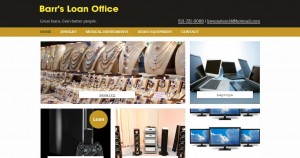 Barr's Loan Office address, phone, website, hours of operation, and more. We've been proudly providing the greater Cincinnati area with quality products since 1988. We're locally owned and operated and will buy, sell, trade, or loan products at great prices!
Our staff at Barr's Loan Office has a wide array of jewelry sales. We have beautiful diamonds, gold and silver jewelry as well as watches and vintage items. We also offer repair service!
You'll find a large selection at unbeatable prices. From musical instruments to home audio equipment, we've got you covered. Check us out in the Cincinnati, OH area today!
Address: 550 Reading Rd, Cincinnati, OH 45202
Phone: (513) 721-0088
Website: http://www.barrsloanoffice.com
Email: ljweinstein14@hotmail.com
Hours:
Mon – Tue 10:00 am – 5:00 pm
Wed Closed
Thu – Sat 10:00 am – 5:00 pm
Sun Closed