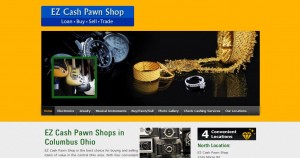 EZ Cash Pawn Shop address, phone, website, hours of operation, and more. EZ Cash Pawn Shop is the best choice for buying and selling items of value in the central Ohio area. With four convenient locations throughout Columbus, we provide a wide range of services such as check cashing, cash loans, buying, selling, and trading valuables.
Our locally-operated company does everything a pawn shop should do: loan, buy, sell, and trade! Our Columbus, Ohio, pawn shops specialize in offering top dollar for electronics, musical instruments, tools, and jewelry. Not only do we buy items, but we also sell our inventory at unbeatable prices. If you are looking for a new guitar or special gift for your wife for the upcoming holiday, consider purchasing from one of our local pawn shops. Our employees are knowledgeable about our inventory and know the most appropriate price to sell an item for. We have our customer's best interest in mind, and that's why you can trust our company to sell items that are in good, sellable condition.
Above all, we are dedicated to offering superior customer service every day our doors are open. If you have questions about our services or about a product we are selling, we would be happy to give you an accurate answer. We take pride in our wide variety of products on our shelves. We are always looking to expand our inventory, too! Stop by today to browse our store or to get a quote for your old jewelry. EZ Cash Pawn shop is here to serve you. We have served thousands of happy customers and we hope you stop in to see us today.
Address: 2245 Morse Rd, Columbus, OH 43229
Phone: (614) 556-4026
Website: http://www.ezcashcolumbus.com
Hours:
Mon – Sat 9:00 am – 5:30 pm
Sun Closed