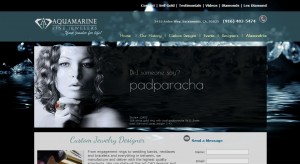 Aquamarine Jewelers address, phone, website, hours of operation, and more. From engagement rings to wedding bands, necklaces and bracelets and everything in between, we manufacture and deliver with the highest quality standards. We use state-of-the-art CAD designs and 3D printing as well as hand carved wax models.
Many of our new clients are referred by their friends and families who are loyal and satisfied customers. They travel from cities outside of Sacramento because they know we will meet and exceed their custom design expectations and even save them money.
With gold prices still high, we offer the most money for your scrap gold than anywhere else in Sacramento. Broken of not we will buy it. We also buy silver, platinum and diamonds.
Address: 3416 Arden Way, Sacramento, CA 95825
Phone: (916) 483-5474
Fax: (916) 483-9768
Website: http://www.aquamarinejewelers.com
Email: info@aquamarinejewelers.com
Hours: Mon – Fri 9:00 am – 5:00 pm