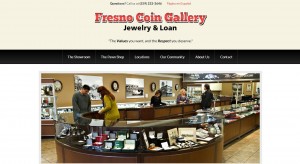 Fresno Coin Gallery address, phone, website, hours of operation, and more.
We have been a BBB accredited business since 1984 and maintain an A+ rating.
In 2012, we were a proud recipient of the Better Business Bureau's Torch Award. This award honors businesses that have demonstrated a commitment to ethical business practices, both in operations and in integrity, reliability and responsiveness to employees, vendors and customers.
Address: 4616 N Blackstone Ave, Fresno, CA 93726
Phone: (559) 222-2646
Website: http://www.fresnocoin.com
Email: Fresnocoin@aol.com
Hours:
Mon – Thu 9:00 am – 5:30 pm
Fri 9:00 am – 3:00 pm
Sat 9:00 am – 5:30 pm