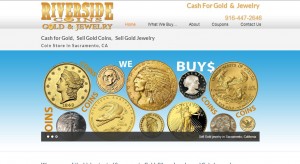 Riverside Coins & Gold address, phone, website, hours of operation, and more.
Riverside Coins & Gold is Sacramento's favorite gold and coin buyer. Located in a small shopping area near Land Park in a friendly neighborhood where everyone welcomes new or regular customers. Our business is family owned with many years of merchant and customer service experience.
Riverside Coins & Gold is a highly motivated buyer of all kinds of coins; such as souvenir coins, elongated penny, hobo nickels, wooden nickels, and more. We do not neglect other precious metals that may come in other shapes and sizes. With thorough evaluation, comparison, and detailed inspection, we deliver and work with our clients directly. No need to send of your gold and pay for service fees! Simply, call or visit our store to get the cash you need for the best value in the modern market.
Address: 3204 Riverside Blvd, Sacramento, CA 95818
Phone: (916) 447-2646
Website: http://www.riversidecoins.com
Email: sell@riversidecoins.com
Hours:
Mon Closed
Tue – Sat 10:00 am – 5:00 pm
Sun Closed