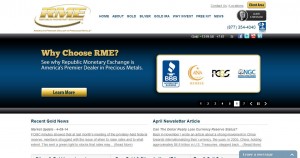 Republic Monetary Exchange address, phone, website, hours of operation, and more. Republic Monetary Exchange is a leading gold, silver and precious metals dealer that offers confidential and sound information to clients interested in investing in precious metals. We have assembled what we believe is the finest team of experienced agents and representatives you will find in the business to help you make sound investment decisions. Whether you're looking for a low-cost investment of silver coins, building a large portfolio for generational wealth preservation, or looking to own some of the finest representations of coinage in the world, Republic Monetary Exchange can help you secure the right assets and offer exceptional value.
The offices of Republic Monetary Exchange are located in Phoenix, Arizona. We're located next to a federally insured bank and accommodate all types of clients interested in buying and selling in the precious metals market. We make it easy for clients to buy and sell coins and bullion in person or over the phone. We take pride in extending exceptional customer service, expertise, and knowledge.
As a leader in the industry, we're committed to delivering on our promises, whether you're purchasing privately or want to learn ways to own precious metals within an IRA or qualified retirement account. Republic Monetary Exchange can help you diversify your holdings, gain exposure to the world of precious metals, and ultimately provide you with information that can lead to a more sound financial future. We offer some of the most competitive rates in the industry and take steps to help you make wise decisions.
Address: 4040 E Camelback Rd, Phoenix, AZ 85018
Phone: (602) 955-6500
Website: http://www.republicmonetary.com
Email: info@republicmonetary.com
Hours:
Mon – Fri 8:30 am – 5:00 pm
Sat – Sun Closed