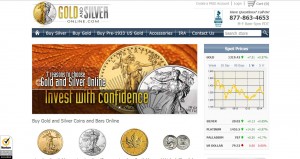 Gold and Silver Online address, phone, website, and more. Gold and Silver Online was created by a group of people that have been in the precious metals business for decades with experience in both wholesale and retail, as well as a deep understanding of how the economy and precious metals markets work.  Our President, Eric Griffin, worked with a rare gold coin company and felt that the market needed a trustworthy, safe and secure, low price option that could be facilitated online.  And that's why when you purchase with Gold and Silver Online you get a Top Gold Investment Company. We like to think that we are one of the best companies that sells gold online.
Because our goal is to be a low price leader, we have some of the lowest prices online as well as some unique features that make us stand apart from the competition. For example, once you make a purchase with us, you can track your portfolio in real-time 24 hours a day, 7 days a week.  You can also set up price notifications that will email you when a product hits your buy price.  These are just a few of the features that make us unique.
Eric Griffin has been around the gold and silver world since 1995 in a variety of facets.  Eric received a Bachelors in Finance from Arizona State University in 2002 and has been in banking, finance and investments ever since.  For Gold and Silver Online, Eric specializes in gold and silver bullion products as well as pre-1933 U.S. gold coins minted between 1839 and 1933.
Our Vice President Carl Fredrikson, is a specialist in online security and product management.  Carl has been working in the online industry for over six years and knows what it takes to keep our site safe and secure, so that you can invest with confidence.
Address: 14231 N 7th St Suite 4A, Phoenix, AZ 85022
Phone: (877) 863-4653
Website: http://www.goldandsilveronline.com