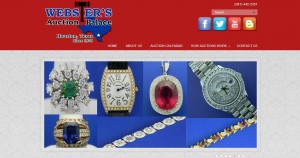 Webster's Auction Palace address, phone, website, hours of operation, and more. Webster's Auction Palace was founded in August 1979 and has been in full time, continuously operating Auction Company. Webster's Auction has 15,000 square feet of inside sales pavilion and warehouses. Three additional acres, all lighted and fenced with live-on security, comprise the vehicle and heavy equipment security compound.
Webster's Auction conducts auctions for Numerous Banks, Storage Companies, Leasing Companies, U.S. Marshals Service, Texas Department of Aging and Disability, Harris County Guardianship Program, Federal and State Receiverships. Webster's Auction has also been selected as an approved Houston auctioneer for the Southern District of Texas Bankruptcy Courts.
The variety of items sold at Webster's Auction include jewelry, gold and silver coins, heavy equipment, vehicles, firearms, estates, boats, antiques, furniture, complete businesses and real estate.
Address: 14463 Luthe Rd, Houston, TX 77039
Phone: (281) 442-2351
Fax: (281) 598-1096
Website: http://www.webstersauction.com
Email: webauction@worldnet.att.net
Hours:
Mon – Fri 8:30 am – 4:00 pm
Sat – Sun Closed