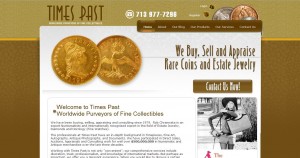 Times Past Rare Coins & Antique Jewelers address, phone, website, hours of operation, and more.
At Times Past, we pride ourselves on having one of the most extensive inventories of rare coins, estate jewelry and diamonds in the world. As an owner operated business, we also believe in a 'service for life' approach.
We supply only the finest quality pieces available, and ensure all our gems are natural untreated stones without enhancements. What's more, we source just those pieces that represent the very best of every period. From Roman, Byzantine and Georgian to Victorian, Edwardian,Art Nouveau and Art Deco. Not to mention, the retro fashions of the 1940s and 1950s.
In short, when you purchase a coin or a piece of fine period jewelery from Times Past, you are investing in a rarity. Articles were handmade by a craftsmen at a time when there was no mass production of gemstone rings and jewelers considered themselves artists.
With a service that is unrivalled by any, we are confident that when you buy from us, you are buying peace of mind.
Address: 6222 Richmond Ave Ste 540, Houston, TX 77057
Phone: (713) 489-2559
Website: http://timespastcollections.com
Hours:
Mon – Thu 9:00 am – 4:30 pm
Fri 9:00 am – 12:00 pm