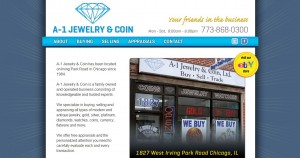 A-1 Jewelry & Coin address, phone, website, hours of operation, and more. A-1 Jewelry & Coin has been located on Irving Park Road in Chicago since 1984.
A-1 Jewelry & Coin is a family owned and operated business consisting of knowledgeable and trusted experts.
We specialize in buying, selling and appraising all types of modern and antique jewelry, gold, silver, platinum, diamonds, watches, coins, currency, flatware and more.
Address: 1827 W Irving Park Rd, Chicago, IL 60613
Phone: (866) 986-3982
Website: http://www.a1jewelryncoin.com
Email: a1internetmail@gmail.com
Hours:
Mon – Fri 9:00 am – 6:30 pm
Sat 9:00 am – 5:30 pm
Sun Closed