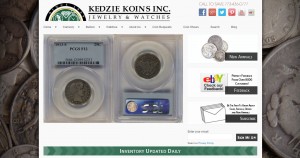 Kedzie Koins & Jewelry address, phone, website, hours of operation, and more.
Kedzie Koins is located at 5909 S. Kedzie Ave. in Chicago, Illinois.; we are centrally located, just two miles away from Midway Airport. We are one of the Midwest's leading dealers in pocket watches, coins, and antique gold and silver items. We at Kedzie Koins welcome you with an amazing collection of fine jewelry, pocket watches and coins for any occasion, even if that happens to be buying for yourself.
We are a family-owned and operated business and have been located in the same location for more that three decades. At Kedzie Koins, we treat everyone like family and will work with you on a one-on-one basis. Devoted to making your purchase with us an easy and fun experience, our knowledgeable and friendly experts can help you with your time piece, fine jewelry, or coin purchase.
Address: 5909 S Kedzie Ave, Chicago, IL 60629
Phone: (773) 436-0777
Website: http://www.kedziekoins.net
Email: kedziekoin@aol.com
Hours:
Mon – Sat 10:00 am – 5:00 pm
Sun Closed