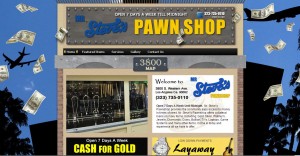 Mr. Steve's Pawn Shop address, phone, website, hours of operation, and more.
Mr. Steve's Pawnshop is a family owned and operated business. It has served the Los Angeles area or over 30 years. It is owned and operated by its founder, Mr. Steve, and has over 5000 square feet of the largest selections of pre-owned Rolex watches, Diamonds, and Estate Jewelry in all of Southern California. Mr. Steve's is a place where many celebrities and professionals look to purchase expensive merchandise at very deep discounts.
The store is located right off the 10 freeway on Western and Exposition in the City of Los Angeles.
Mr. Steve's Pawnshop is world recognized as a leader in high dollar loans with customers traveling from all over to do business with Mr. Steve.
Mr. Steve's Pawnshop provides the community easy access to money in times of need. Mr. Steve's Pawnshop offers collateral loans on many items. Including; Gold, Silver, Platinum, Jewelry, Diamonds, Coins, Bullion, TV's, Laptops, Game Systems and many other items. Come in today and experience all we have to offer.
Address: 3800 S Western Ave, Los Angeles, CA 90062
Phone: (323) 735-0110
Website: http://www.mrstevespawnshop.com
Email: mrstevespawnshop@yahoo.com
Hours: Mon – Sun 8:30 am – 12:00 am