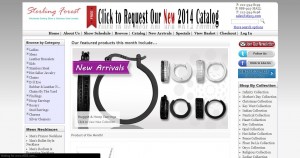 Sterling Forest is a wholesale Sterling Silver & Stainless Steel jewelry company. We have been in business over 18 years selling high quality merchandise in New York. We are a direct importer of Sterling Silver .925 jewelry from Bali, Indonesia, Italy, Thailand, China, Taiwan, Mexico & India.
Let us be your one stop shop Sterling Silver & Stainless Steel Jewelry store. We foster business by providing above and beyond customer service and quick shipping turnaround. Our friendly bilingual staff speaks Spanish, Hindi, Philipino and they're ready to answer any questions or concerns you may have. We carry thousands of items and we are constantly adding new styles every week for your interest.
We have provided our digital catalogs on our website for your convenience. You may place your order by calling us Toll Free at (888) 925-6255,via sales@sf925.com or Fax to (212) 594-8198
We are located in the wholesale jewelry market at 1204 Broadway Between 30th & 29th st, New York City, NY 10001. We also participate in wholesale trade shows around the country such as JIS, ASD & JCK. Please check our Show Schedule or Join Our Mailing List so we can keep you updated with the latest promotions, styles & show schedules. Cities we visit are: Atlantic City, Baltimore, Chicago, New York, Miami, Las Vegas & New Orleans. IN THIS VOLATILE SILVER MARKET, WE KEEP OUR PRICES FIRMLY COMPETITIVE!
Address: 1204 Broadway Suite 201, New York, NY 10001
Phone: (212) 594-8199
Fax: (212) 594-8198
Toll Free: (888) 925-6255
Website: http://www.sf925.com/
Email: sales@sf925.com
Hours:
Mon – Fri 9:00 am – 6:00 pm
Sat 9:00 am – 5:30 pm
Sun 9:00 am – 12:00 pm
Payment method: All Major Credit Cards, Amex, Carte Blanche, Company Card, Diners Club, Discover, Jcb, Mastercard, Visa