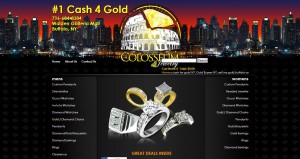 Colosseum Jewelry address, phone, website, hours of operation, and more. Colosseum jewelry was established in 2005. We stand behind our jewelry and guarantee customer satisfaction. Customer satisfaction is the foundation of our company.
For your convenience we also buy and sell gold. Do you have any gold you would like to turn in for cash? We'll appraise and give you top value for your gold. Do you have your eye on a particular item? You can trade in your gold and put its cash value towards another item or simply take the cash. We will work with you to offer you the best possible deal.
We cut the middle man out and offer you whole sale prices. In addition we give you the opportunity to directly deal with a place who makes personalized jewelry. Every jewelry item on colosseumjewelry.com has been carefully selected for high quality. You will only find the best in diamond necklaces, diamonds and gold pendants, gold and diamond earrings, and diamonds watches ,silver and more.
We are constantly striving to offer popular jewelry items that will remain in style for years to come. We believe that our customers should have the best shopping experience; so shop like a star with our low prices at www.colosseumjewelry.com.
Address: 144 Walden Galleria, Buffalo, NY 14225
Phone: (716) 684-8384
Website: http://www.colosseumjewelry.com
Email: info@colosseumjewelry.com
Hours:
Mon-Sat 10:00am-9:00pm
Sun 11:00am-6:00pm