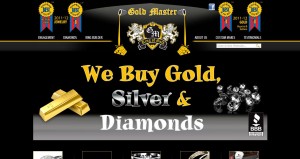 Gold Master Jewelers address, phone, website, hours of operation, and more.
Gold Master Jewelers can provide you with all of your jewelry needs, from Gold and Silver buying to repairs and custom makes. The moment you enter Gold Master you will discover that we are a different kind of jewelry store. Our friendly and genuine staff will help you to get the most for your unwanted jewelry and the best price for a piece you do want!
Gold Master is a jewelry design studio where ideas are sketched into designs, diamonds and gemstones are hand picked, and precious metals are skillfully crafted into fine jewelry perfection. Gold Master has state of the art equipment for designing and fabricating intricate and exquisite Jewelry. One of our systems we use is the C.A.D. CAM (Computer Aided Design). With this device we can scan a photo, picture, or drawing, and within minutes create a 3-Dimensional design of your unique piece of art!
Then with the click of a button your custom jewelry will be milled out with pin point precision and set with any desired stones you may own.
Our Master Jeweler, Sal, has been in the business for over 30 years and has done work for almost every jewelry store around the coastal bend. Sal is laser welding certified, as well as his apprentice on site, being so, they can repair anything, whether its that family heirloom that needs some attention or that favorite piece of costume jewelry.
Gold Master Jewelers is a place where you are our family the second you walk through the doors, Family owned and operated since 1990, Sal and his staff promise you will leave with something in hand, whether its cash, a piece of jewelry you loved, or even just a great experience! Sal treats every piece of jewelry as if it were his own, so you not only have the confidence in knowing your pieces are in good hands, but you have our guarantee that you will walk out satisfied!
Gold Master also carries many designer collections like Elle and Kenneth Cole. We offer preowned Rolex's and estate pieces, as well as our Exclusive Giovanni Seth Bridal Collection with all pieces encrusted and dripping in diamonds!
Address: 2314 Ayers St, Corpus Christi, TX 78404
Phone: (361) 852-4653
Website: http://www.goldmasterjewelers.com
Email: info@goldmasterjewelers.com
Hours:
Mon – Tue 9:00 am – 6:30 pm
Wed 8:00 am – 6:30 pm
Thu – Fri 9:00 am – 6:30 pm
Sat 10:30 am – 5:30 pm
Sun Closed