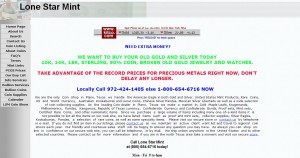 Lone Star Mint address, phone, website, hours of operation, and more. Founded in 1983, Lone Star Mint is backed by over 100 years of industry experience. Since the beginning we have endeavored to provide a wide variety of U.S. and world coins, ancient coins, precious metals, collector supplies, U.S. and World currencies and stamps for our collectors on a continual basis.
We frequently do estate, insurance and collection appraisals, investment grade portfolio procurement, as well as custom minting for a number of State Government programs, Large Corporations and private businesses.
Lone Star Mint has been and continues to be an exclusive authorized PCGS submission center. Providing the best in third party grading and certification services for our clients.
Please remember we actively purchase precious metals, silver coin, collector quality U.S. and world coins and currencies for our collector community. If you should have any of these items, and are wishing to liquidate, please contact us. We would be more than happy to purchase your collection.
Through our commitment, experience, and expertise Lone Star Mint has established a business relationship with our customers that we hope will last a lifetime!
Address: 805 E 15th St, Plano, TX 75074
Phone: (972) 424-1405
Fax: (972) 423-4197
Website: http://www.lsmint.com
Hours:
Mon-Fri 9:00am-6:00pm
Sat 10:00am-5:00pm