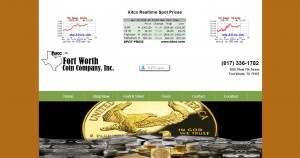 Forth Worth Coin Company Inc address, phone, website, hours of operation, and more. Fort Worth Coin Company Inc in Fort Worth, Texas, is the area's premier precious metal dealers and rare coin dealers. We offer our customers dedicated and friendly service.  Our company is happy to help you whether you're looking to sell your old collection, add to your existing collection, or start a new collection.
Our modest operation rests on the edge of historical, downtown Fort Worth, Texas. For over forty years home grown Texas pride has carefully fostered our growing precious metals and rare coin operation. While incorporating innovative business strategies, we've successfully maintained a practical, proven approach to conducting business… your word is your bond.
Like most dealers, everyone here at FWCC is a collector at heart. These offerings represent great opportunities for collectors & investors, you have our word on it.
Address: 2820 W 7th St, Fort Worth, TX 76107
Phone: (817) 336-1782
Website: http://fortworthcoin.com
Email: info@fortworthcoin.com
Hours:
Mon – Fri 10:00 am – 6:00 pm
Sat – Sun Closed