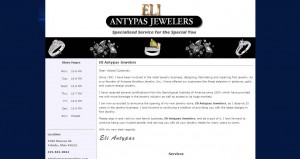 Eli Antypas Jewelers address, phone, website, hours of operation, and more.
Since 1991 I have been involved in the retail jewelry business, designing, fabricating and repairing fine jewelry. As a co-founder of Antypas Brothers Jewelry, Inc. I have offered our customers the finest selection in platinum, gold, and custom-design jewelry.
I have received several certifications from the Gemological Institute of America since 2004, which have provided me with more leverage in the jewelry industry as well as access to its huge markets.
I am now so excited to announce the opening of my new jewelry store, Eli Antypas Jewelers, as I observe 20 years in the jewelry business. I look forward to continuing a tradition of providing you with the latest designs in fine jewelry.
Please stop in and visit my new family business, Eli Antypas Jewelers, and be a part of it. I look forward to continue being your trusted jeweler and serving you with all your jewelry needs for many years to come.
Address: 5300 Monroe St, Toledo, OH 43623
Phone: (419) 842-0022
Website: http://www.eliantypasjewelers.com
Email: e@eliantypasjewelers.com
Hours:
Mon – Wed 10:00 am – 6:00 pm
Fri 10:00 am – 6:00 pm