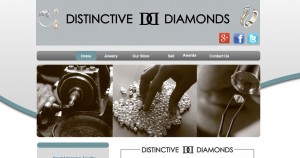 Distinctive Diamonds address, phone, website, hours of operation, and more. Distinctive Diamonds offers you a different way to buy diamonds and jewelry in Indianapolis. It starts with a massive inventory of diamonds. We have one of the largest selections of diamonds in America. This gives our customers the ability to see and compare multiple diamonds at the same time so they can make the best decision and find the diamond that fits their taste and budget.
We also pride ourselves on providing consumers with a superior diamond education, with no pressure and no retail pricing games.  We do not sell diamonds using emotion. We teach our customers to buy diamonds like a dealer buys diamonds so they can make a smart decision in the shopping process.  This includes sharing the closely guarded Rapaport Report which is used by diamond dealers worldwide to provide price indications and world market value for a variety of diamond sizes and shapes.  This level of education is unique but we believe the more educated a diamond buyer becomes, the more they will appreciate our extraordinary value.
Distinctive Diamonds also ensures your protection with a nationwide price protection guarantee and a lifetime trade up policy.  We refuse to lose any sale due to price, quality, selection or customer service.  And unlike other jewelry stores, there is never an extra charge for an appraisal, sizing, cleaning or routine maintenance for your piece of jewelry.  With the purchase of any piece of jewelry, we gladly provide service for life free!
Address: 8557 River Rd, Indianapolis, IN 46240
Phone: (317) 575-8555
Website: http://www.distinctivediamondsinc.com
Email: info@distinctivediamondsinc.com
Hours:
Mon – Fri 10:00 am – 7:00 pm
Sat 10:00 am – 6:00 pm
Sun Closed