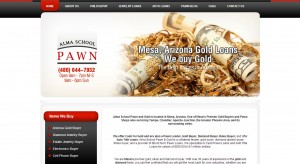 Alma School Pawn address, phone, website, hours of operation, and more. Alma School Pawn and Gold is located in Mesa, Arizona. One of Mesa's Premier Gold Buyers and Pawn Shops also servicing Tempe, Chandler, Apache Junction, the Greater Phoenix Area, and its surrounding cities.
We are Mesa's premier gold, silver and diamond buyer. With over 30 years of experience in the gold anddiamond trade, you can feel confident that you will get the most cash for your valuables, whether you are selling or taking a CASH PAWN LOAN for your gold, diamonds, Rolex (and other fine gold watches),electronics, coins, and more. We also provide AUTO TITLE LOANS on your vehicles so you can get a cash loan using the title of your car, truck, van, SUV, RV, motorhome, motorcycle, boat, jet-ski or collectable, antique, classic or custom car.
If your need for cash is short term and you believe you will be able to repay the cash loan and retain possession of your item, it is ALWAYS better for you to use our CASH LOAN or PAWN LOAN services.Alma School Pawn and Gold, and its affiliates have been a gold & diamond buyer, extending cash loans and buying valuables in Arizona since 1986. We are one of the oldest existing pawnshops and car title lenders in the State of Arizona. Whether you are buying, selling or taking a loan, Alma School Pawn and Gold is a name you can trust to provide the best possible deal.
Address: 752 S Alma School Rd, Mesa, AZ 85210
Phone: (480) 644-7932
Website: http://www.almaschoolpawn.com
Email: info@almaschoolpawn.com
Hours:
Mon – Sat 9:00 am – 7:00 pm
Sun 9:00 am – 6:00 pm