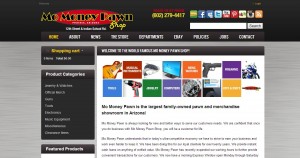 Mo Money Pawn address, phone, website, hours of operation, and more. Mo Money Pawn is always looking for new and better ways to serve our customers needs. We are confident that once you do business with Mo Money Pawn Shop, you will be a customer for life.
Mo Money Pawn understands that in today's ultra-competitive economy we have to strive to earn your business and work even harder to keep it. We have been doing this for our loyal clientele for over twenty years. We provide instant cash loans on anything of verified value. Mo Money Pawn has recently expanded our working hours to further provide convenient transactions for our customers. We now have a morning Express Window open Monday through Saturday from 8AM to 10AM along with our Night Window that is open until midnight daily. That's five hours after the store closes, so we are open 16 hours daily to help you when you need us most.
If money is tight, we also offer great interest-free lay-away programs so you can hold onto that special item. Lay-away is available on every item that we sell. Mo Money Pawn is great for gifts, from tools, big screen TV's, musical equipment, fine watches, and even beautiful engagement and wedding jewelry.
Address: 1152 E Indian School Rd, Phoenix, AZ 85014
Phone: (877) 266-6654
Website: http://www.momoneypawn.com
Email: momoneypawn@hotmail.com
Hours: Mon – Sun 10:00 am – 11:45 pm