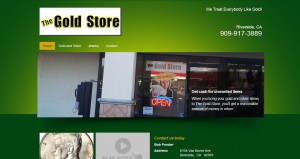 The Gold Store address, phone, website, hours of operation, and more.
If you've inherited gold, silver or metal items that you think might be worth something, they probably are. Bring them to our experts today to find out how much they are actually worth.
Upon arrival, you'll be paired with one of our trained appraisers who will evaluate and determine the value of your item right in front of you. You'll get a knowledgeable explanation and fair price for all of your items.
Address: 6104 Van Buren Blvd, Riverside, CA 92503
Phone: (909) 917-3889
Website: http://www.thegoldstoreriv.com
Email: bpthegoldstore@yahoo.com
Hours: Mon – Sun 9:00 am – 5:00 pm