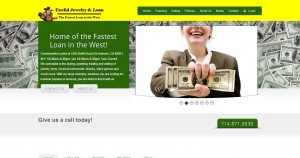 Euclid Jewelry & Loan address, phone, website, hours of operation, and more. Euclid Jewelry & Loan is locally owned and operated. We have proudly assisted our customers to get the cash they need quickly and confidentially since 1980. We can assist you by making pawn loans on your items or if you have items you no longer need, we may be interested in purchasing them.
We buy gold jewelry and scrap gold. Bring these items to us for quick cash instead of sending them out of town. Why risk sending valuables through the mail and waiting for your money? Come in and meet our friendly staff who will be available to give you a price for your gold instantly.
EJL Pawnbrokers offers great pre-owned merchandise at low prices. Before paying retail, come in and browse our selection of jewelry, home electronics, tools, musical instruments and much more.
Address: 1295 N Euclid St, Anaheim, CA 92801
Phone: (714) 871-0830
Fax: (714) 533-0221
Website: http://ejlpawn.com
Email: ejlpawnbrokers@gmail.com
Hours:
Mon – Fri 10:30 am – 6:30 pm
Sun Closed