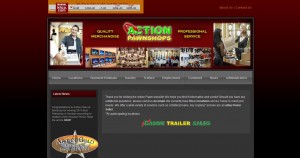 Action Pawn address, phone, website, and more.
In 1978, Dale Huggins opened a small, nondescript pawn shop in Cedar Park, Texas. Little did he dream that Action Pawn would grow to become recognized as the friendliest, most respected well-run pawn system in the state. There are currently fifteen locations from Baytown to San Angelo, and growing every year! The Action Pawn Family works tirelessly for their customers, communities, and the industry they love so much! Visiting any Action Pawn location is like visiting close friends where there is tremendous customer loyalty and trust.
Visit any Action Pawn for quick collateral loans up to $14,000, or for bargain prices on a huge variety of merchandise including stereos, TV's, VCR's, tools, game systems, and appliances. You will be overwhelmed by the selection and prices of our fine jewelry. We are fortunate to have an onsite jeweler for jewelry repair and custom work.
Address: 9314 N Lamar Blvd, Austin, TX 78753
Phone: (512) 379-2038
Website: http://www.actionpawnshops.com
Email: actionpawn6@webvortex.com