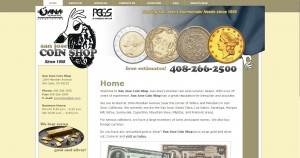 San Jose Coin Shop address, phone, website, hours of operation, and more.
San Jose Coin Shop, San Jose's premier coin and currency dealer. With over 35 years of experience, San Jose Coin Shop has a great reputation for being fair and accurate.
We are located at 1084 Meridian Avenue (near the corner of Willow and Meridian) in San Jose, California. We currently service the San Jose, Santa Clara, Los Gatos, Saratoga, Morgan Hill, Gilroy, Sunnyvale, Cupertino, Mountain View, Milpitas, and Fremont areas.
For serious collectors, we have a large inventory of coins and paper money. We also buy foreign currency.
Do you have any unwanted gold or silver? San Jose Coin Shop buys scrap gold and silver cut. Come in and visit us today.
Address: 1084 Meridian Ave, San Jose, CA 95125
Phone: (408) 724-9460
Website: http://www.sjcoinshop.com
Email: sjcoinshop@aol.com
Hours:
Mon – Fri 9:30 am – 5:30 pm
Sat 10:00 am – 4:00 pm