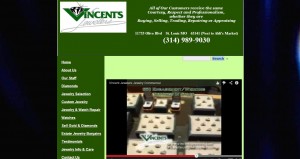 Vincent's Jewelers address, phone, website, hours of operation, and more. At Vincent's Jewelers, the philosophy of quality, integrity, and service is not just a cliche'. This philosophy is integrated into every aspect of our operation, foremost through the owner, management and staff of Vincent's Jewelers. We hold firm to the belief that "you are only as good as your staff," and strive to hire and cultivate employees with a strong work ethic who will convey our philosophy.The staff has over 250 years of combined experience, with an average of more than 12 years of tenure with Vincent's Jewelers. Insuring that you will see the same experienced faces over and over again.
Vincent's Jewelers believes in providing a great "warm" experience when making a purchase, repairing an heirloom, or selling unwanted jewelry. The "cold" click and ship does not fit into Our Business Philosophy.
Service at Vincent's Jewelers is second to none. We operate under the philosophy that every customer deserves the "red carpet" treatment. This begins with educating our customers when they walk in the door and continues far past the point of them walking out the door. Service does not end with the sale. In addition, Vincent's Jewelers is dedicated to handling problems with a positive attitude because we realize that the way a complaint is handled can lose, or gain a customer for life.
Address: 11733 Olive Blvd, Saint Louis, MO 63141
Phone: (314) 989-9030
Website: http://www.vincentsjewelers.com
Email: info@vincentsjewelers.com
Hours:
Mon 9:00 am – 5:00 pm
Tue 9:00 am – 7:00 pm
Wed 9:00 am – 5:00 pm
Thu 9:00 am – 7:00 pm
Fri – Sat 9:00 am – 5:00 pm