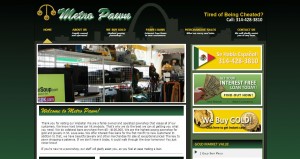 Metro Pawn address, phone, website, hours of operation, and more. We are a family owned and operated business. We are located at 8286 St. Charles Rock Rd. St. Louis Mo 63114. We are about 20-30 minute from anywhere in St. Louis. We understand that these are hard times right now and that people need help. That's why we are offering a one month interest free pawn to new customers. You can come to us in need of a loan and never be judged. There is never a credit check!
We are a member a the Better Business Bureau and we take customer service seriously. We try very hard to please our customers so they leave here feeling happy and treated fairly.
We are the number one pawnshop for buying gold and jewelry. We have been featured on Channel 5 for being one of the top gold buyers in St. Louis. We also have a beautiful variety of jewelry to purchase. We have some of the most unique pieces you'll see in a pawnshop. Plus, we have fabulous deals! Never pay retail for jewelry again!
We also carry a wide range of tools and electronics. We have anything from TV's to car rims. If we don't have it today we could have it tomorrow. You just have to keep checking!
Come by today and browse around or make a loan and let us change the way you think about pawn shops!
Address: 8286 Saint Charles Rock Rd, Saint Louis, MO 63114
Phone: (314) 428-3810
Website: http://www.metropawnstl.com
Hours:
Mon – Fri 9:30 am – 6:00 pm
Sat 10:00 am – 4:00 pm
Sun Closed