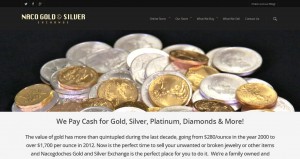 Nacogdoches Gold & Silver Exchange address, phone, website, hours of operation, and more. Serving San Antonio since 2008, Nacogdoches Gold and Silver Exchange is a family owned and operated business. We pride ourselves in taking care of our customers. When you come to us to sell or trade your treasured items, you can count on us to pay the highest prices and offer fair and honest appraisals.
The value of gold has more than quintupled during the last decade, going from $280/ounce in the year 2000 to over $1,700 per ounce in 2012. Now is the perfect time to sell your unwanted or broken jewelry or other items and Nacogdoches Gold and Silver Exchange is the perfect place for you to do it. We're a family owned and operated business. At Nacogdoches Gold and Silver Exchange we take the time to explain to our customers what we know about gold.
You can watch as we determine the value of your items. We'll make you an offer and if you accept we will pay you in cash, right then, on the spot; If you don't like the offer, you are free to take your items back. We regularly encourage people to visit the other gold buyers in San Antonio before visiting us; you will quickly see how much more we are offering for the exact same items. We also have a large selection of jewelry and other merchandise for sale. We have great gifts for Mother's day, Father's day, Christmas, birthdays, and graduations. If you have any questions, please feel free to call us now or come by the store for a visit. Our phone number is (210) 655-8428 and we're located at 13323 Nacogdoches Road, Suite #3 here in San Antonio.
Address: 13323 Nacogdoches Rd, San Antonio, TX 78217
Phone: (210) 655-8428
Website: http://www.nacogoldandsilver.com
Email: nacogoldandsilver@gmail.com
Hours:
Mon – Fri 10:00 am – 6:00 pm
Sat – Sun Open 24 Hours