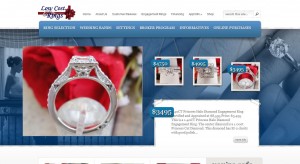 Low Cost Rings address, phone, website, hours of operation, and more. Low Cost Rings is unique wholesaler, we keep the overhead costs to a minimum so that you get the maximum. We have a very professional, safe and secure office location at Tower Place (Region's Bank Building) on West Shore Blvd. By appointment only and we give each client no-pressure professional assistance with any questions to give the best service any jeweler can offer.
We have been accredited with the Better Business Bureau for many years with ZERO complaints and we strive to give the best service to each and every client.
We carry several dozen diamond engagement rings put together and ready for sale. We also have 100′s of different rings & bands to choose from as well in case you don't fall in love with one that it already put together, we can move the diamonds around into a different setting. We don't have the exact diamond you are looking for? We offer a 100% transparent process to broker a diamond from our suppliers, same suppliers that supply all jewelry stores in America. You see our pricing and just pay a small percentage over cost.
Address: 1511 N Westshore Blvd Ste 1125, Tampa, FL 33607
Phone: (813) 447-5577
Website: http://www.lowcostrings.com
Email: paul@lowcostrings.com
Hours: Open 7 Days, Appointments Available