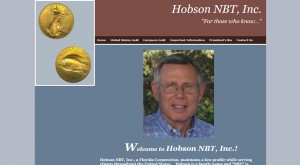 Hobson NBT Inc address, phone, website, and more. Hobson NBT Inc, a Florida Corporation, maintains a low profile while serving clients throughout the United States. Hobson is a family name and "NBT" is short for "Numismatic and Bullion Trading" – what we do!
Hobson NBT Inc does not advertise widely, but relies on word-of-mouth between "…those who know" and their friends, family or associates who are either new to purchasing precious metals or who can benefit from Hobson NBT's significant price and quality advantages.
We offer historic United States "Pre-1933" NGC/PCGS (only) certified rare coins as well as "raw" or "uncertified" U.S. gold coins; the popular Swiss, French and British fractional gold coins sold in lots of 20 or more; United States Silver dollars from "culls" to NGC/PCGS certified Mint State coins; and a favorite – Mint-sealed "Monster Boxes" of 500 American Silver Eagles. We also provide the great products of the Canadian Mint, such as Gold and Silver Maples.
Address: P.O. Box 270923  Tampa, Florida 33688-0923
Phone: (813) 264-2345
Website: http://hobsonnbt.com
Email: david@HobsonNBT.com