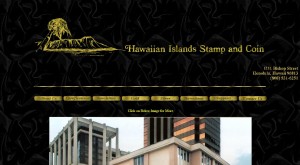 Hawaiian Islands Stamp & Coin address, phone, website, hours of operation, and more. Hawaiian Island Stamp & Coin has been servicing the collectors of Hawaii and visitors from around the world since 1973. The first store was opened in Hawaii Kai at The Koko Marina Shopping Center. In 1979 Hawaiian Island Stamp & Coin made it's new home right down town Honolulu on the corner of Hotel and Bishop Street occupying the front corner of the Remington College Building on the ground level.
The expert staff performs appraisals and does authentication work for Estates, Banks, Trust Companies, Attorneys, Law Enforcement Agencies and Collectors.
Since 1980, Don Medcalf President of Hawaiian Island Stamp & Coin has been and expert contributor to Krause's Standard Catalog Of World Coins and Standard Catalog Of World Paper Money as well as several other Numismatic Publications. In 1984, he was appointed Chairman of the Expertising Committee of the Hawaiian Philatelic Society which performs world-wide certification for Hawaiian Philatelic material. He is a frequent guest speaker at the University of Hawaii, local high schools, coin clubs and business organizations, as well as the prestigious Bernice Pauahi Bishop Museum. In 1989, he was elected President of the Stamp and Coin Dealers Association of Hawaii. In 1978 he and Ronald Russell released the frist edition of "Hawaiian Money" the only book available on Hawaiian coins, tokens, medals, royal orders and script which is used by dealers, auction houses and collectors alike. In 1991 he released the second edition of "Hawaiian Money".
Address: 1111 Bishop St Suite 105, Honolulu, HI 96813
Phone: (808) 531-6251
Fax: (808) 531-6253
Website: http://www.hawaiianislandstampandcoin.com
Email: info@hawaiianmoney.com
Hours:
Mon – Fri 9:00 am – 5:00 pm
Sat 10:00 am – 4:00 pm
Sun Closed