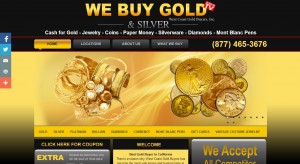 West Coast Gold Buyers address, phone, website, hours of operation, and more.
There is a reason why West Coast Gold Buyers has become the most well known and trusted name in gold buying in California. We pride ourselves on the relationships we've built with people like you – our friends and neighbors throughout the community. We are highly respected and absolutely trusted by thousands of people who have sold us their gold.
Our prices are highly competitive in the marketplace, but without the hassle and pressure to sell, which you might find in a retail environment. You can be assured that when you work with West Coast Gold Buyers, it will be a pleasant and profitable experience.
Address: 2415 W San Ramon Ave, Fresno, CA 93711
Phone: (877) 465-3676
Website: http://www.wcgoldbuyers.com
Hours:
Mon – Fri  11:00 am – 7:00 pm
Sat 11:00 am – 6:00 pm
Sunday  Closed