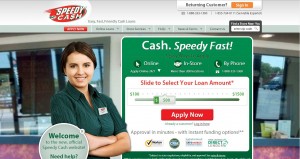 Speedy Cash address, phone, website, and more.
What better way to describe the Speedy Cash experience? Whether you visit a store, apply for a loan online, or speak to one of our phone representatives we'll make sure your loan application process is easy, you get your money fast, and you experience friendly customer service – every time.
When it comes to your money, Speedy Cash means business. We understand that you may be in a tough situation, and we're here to get cash in your hands quickly. That's why Speedy Cash offers three convenient ways to apply for a loan – so you can choose the solution that works best for you! Whether you need quick cash in an emergency or your budget simply fell short, our easy, fast cash loans have you covered.
Address: 270 E. Baseline St. , San Bernardino, CA 92410
Phone: (909) 277-7804
Website: http://www.speedycash.com