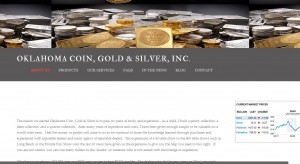 Oklahoma Coin, Gold & Silver address, phone, website, and more.
The reason we started Oklahoma Coin, Gold & Silver is to pass on years of study and experience.  As a child, I built a penny collection, a dime collection, and a quarter collection.  After many years of experience and costs, I have been given enough insight to be valuable on a world-wide basis.  I feel the money or profits will come to us as we continue to share the knowledge learned through purchases and experiences with reputable dealers and many agents of reputable dealers.  The experiences of a 40 table show to the 400 table shows such as Long Beach or the Florida Fun Show over the last 10 years have given us the experience to give you the help you need to buy right.  If you are not careful, you can lose many dollars to the "sharks" or someone who is not armed with knowledge or experience.
Whether we purchase a $15,000 coin or a $500 coin, we try to buy PCGS quality.  The dealers who deal in raw coins or "flips" can easily take advantage of you.  If you buy a slab coin, you are buying a professionally graded coin that has been graded by a group of professionals that cannot deal or sell coins.  They must grade coins only.  The most traded slabs are PCGS (Professional Coin Grading Service).
Address: 11201 N May Ave, Oklahoma City, OK 73120
Phone: (405) 755-0505
Fax: (405) 755-8668
Website: http://www.oklahomasilverdollars.com
Email: info@rodpowers.com